Over time, the field of fashion design has experienced a sharp rise in prominence. It is a constantly changing subject and provides many options for people who love creativity and fashion. This article will walk you through the many job/career options after fashion designing and the scope of fashion designing as a career if you are interested in fashion and are considering pursuing a career in fashion design.
For imaginative people with a keen eye for detail, a fashion designing Career is a fantastic option. Fashion designers create new designs and styles, and clothing corporations then make and market them. They also collaborate with producers to guarantee that the structures are built by specifications and delivered on time, they also collaborate with manufacturers and retailers. 
Fashion Designing Career After 12th
There are a few steps you can take if you want to pursue a career in fashion designing after the 12th.
Get a degree in fashion design: Numerous universities and fashion designing institutions offer 4-year undergraduate programmes that you can enroll in. Bachelor of Design (B.Des.), Bachelor of Fashion Technology (B.F.Tech), Bachelor of Fashion Design (BFD), and others are prominent programmes in fashion design.
Improve Your Skills:  Beyond the academic requirements, advancing your fashion design abilities is critical. You can achieve this through taking part in fashion shows, internships, and workshops.
Creating a Portfolio:  You must present your work to prospective clients or employers if you want to succeed as a fashion designer. Your best work is compiled in a portfolio.
Keep Up With The Newest Trends:  Since the fashion industry is continuously changing, keeping up with the newest trends, fashions, and innovations is critical.
Gain Industry Experience: Internships, apprenticeships, and entry-level positions are excellent ways to learn about the fashion industry. These chances can help you expand your network and gain crucial industry exposure.
Network: Networking is crucial in every industry, and the fashion sector is no exception. Participate in professional associations, industry events, and networking opportunities.
Look for Employment Opportunities: You can look for employment prospects in the fashion business after earning your degree in fashion design. Fashion designer, fashion stylist, fashion merchandiser, fashion illustrator, etc. are a few of the more well-known professional titles in the sector.
Pursuing a fashion designing career after 12th calls for commitment, originality, and effort. However, it is possible to have a rewarding and fulfilling career with the correct mindset and abilities.
Salary of a Fashion Designer 
The income of a job in the fashion industry can differ based on several parameters, including the title held, experience, location, company, and industrial sector.
The average salary of a fashion designer in India is between Rs2.5 lakh and Rs12 lakh. However, designers with experience might make more than Rs20 lakh rupees annually. 
After completing your 12th, you have a variety of possibilities if you want to pursue a career in fashion designing. A reputable institution may provide a degree or diploma in fashion design. A Bachelor's degree in a similar area, such as textile design, fashion merchandising, or fashion marketing, is an alternative.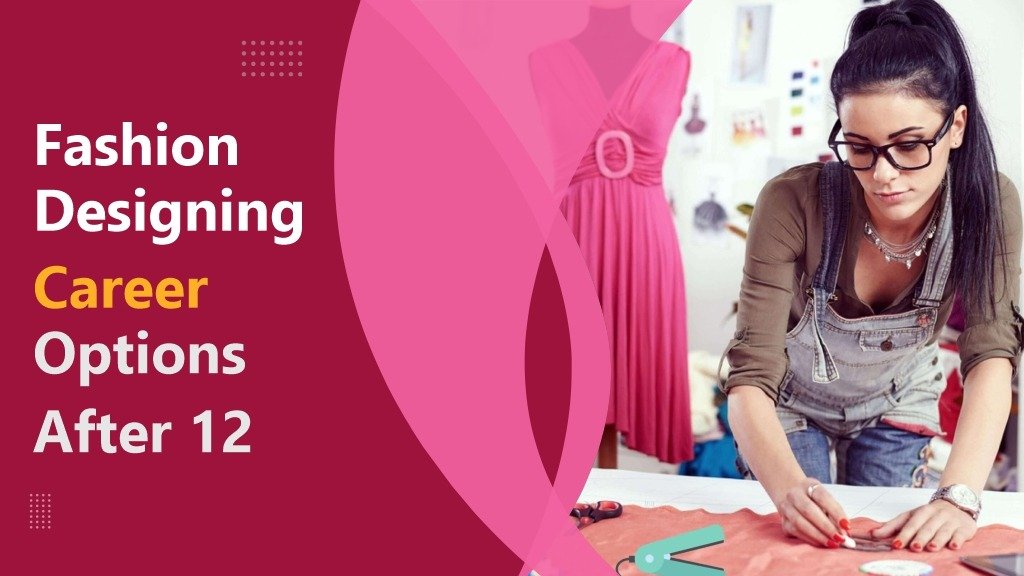 Career Options After Fashion Designing
The potential for a career in fashion designing is enormous. The fashion business is always in need of fresh, cutting-edge designs, and fashion designers are in high demand. Fashion Designing Career option encompasses more than just a fashion designer and fashion design contains more than just creating clothing.
Here's a list of career options after fashion designing that one can adapt to.
Fashion Stylist:

A fashion stylist is in charge of designing the outfits that models, actors, and other celebrities wear for special occasions, photo shoots, and motion pictures. They use accessories, apparel, and other fashion accessories to put together an outfit. 

Fashion Blogger/Influencer:

With the rise of social media, fashion bloggers and influencers have become important in the fashion industry. They create content and promote fashion products on various social media platforms.

Fashion Merchandiser:

Plans and organizes the purchasing and selling garments and accessories in collaboration with merchants. They are in charge of researching consumer trends, predicting demand, and choosing goods to sell. 

Textile Designer:

A textile designer designs the prints and patterns that go on the fabrics that are used to make garments and other products. They produce distinctive and beautiful prints by utilizing their understanding of color, texture, and design. 

Costume Designer:

Crafts outfits for theatrical productions, television programmes, and motion pictures. They collaborate with directors and actors to design costumes that faithfully reflect the story's characters and era. 

Fashion Illustrators:

Provides illustrations of apparel and accessories for use in advertisements, magazines, and other media. They express fashion designs in-depth and accurately using their artistic talents. 

Fashion Buyer:

A fashion buyer chooses and purchases apparel and accessories on behalf of a store or merchant. They carefully consider market trends and consumer behavior to decide which products to stock.

Apparel Design:

This includes creating gowns, suits, coats, and sportswear for men, women, and children. 

Accessory Designing:

Creating jewelry, belts, caps, and other accessories. 

Footwear Design:

This includes creating boots, sandals and trainers for kids, men and women. 

Textile Designing:

It includes creating patterns and prints for materials used to make garments. 

Fashion Journalism: Writing features and stories about fashion trends, designers, and events is a part of fashion journalism. 
Fashion Photography

:

It focuses on taking pictures of apparel and accessories for use in advertisements, periodicals, and other media. The field of fashion design encompasses a wide range of different industries, including fashion marketing, fashion technology, and fashion entrepreneurship.
Scope Of Fashion Designing
As stated earlier, fashion design encompasses more than simply clothing and accessories; it includes jewelry, home décor, and footwear. Aspiring fashion designers have access to a wide range of options thanks to the industry's broad reach.
Global Market: There is a worldwide market for the fashion business, and fashion designers can operate anywhere. Fashion designers can use this diversity to produce one-of-a-kind and cutting-edge designs because fashion trends and styles vary from nation to nation.
Arising Sector: The fashion sector is bubbling and is anticipated to grow more in the upcoming years. There are numerous chances for ambitious professionals given the predicted increase in demand for fashion designers, merchandisers, and other industry specialists.
Sustainable Fashion: In the world of fashion, this is a growing trend. Fashion designers can profit from this fad by producing sustainable, eco-friendly clothing and accessories.
Conclusion:
The world of fashion design is highly competitive and dynamic.
There are several fashion designing career option for people with creative flair and technical skills due to the broad and diverse scope of fashion design and the rapidly expanding global fashion business. Some fashion designers choose to work for themselves as independent contractors or launch their fashion labels, while others decide to work for well-known fashion brands, design studios, or shops. Having a fashion designing career has a broad range. It is expanding, with chances in both established fashion industries and newer ones including eco-fashion, sustainable fashion, and internet shopping.
In conclusion, fashion designing offers a variety of job options and is a field that is always growing. People can develop successful fashion designing careers in this exciting and dynamic business with the correct education, abilities, and desire.