If you're considering enrolling in a fashion designing course, you might be curious about the essential skills needed to succeed in the industry. A firm grasp of the technical side of fashion design is just as important as creativity and creative flare. Making patterns is one of the most essential skills to grasp in a fashion designing school.
In a fashion designing course, patternmaking is essential to acquire. Designers may ensure that each garment they produce is well-fitted, consistent, and economical by understanding how to build precise and effective patterns. Prioritize pattern creation courses in your study if you're considering a fashion design profession.
What is Pattern Making?
Developing a blueprint or template for a garment is known as pattern making. Measuring must be done to convert measurements into a flat paper or digital pattern. This can be used to cut fabric and assemble a garment. Students who pursue patternmaking courses learn to make precise, effective, and reusable patterns that can reduce production time and costs.
The patternmaking program teaches students how to create accurate and efficient garment patterns. The course typically covers taking measurements, drafting patterns, and adjusting to ensure a perfect fit. Students learn about pattern blocks, grading, dart manipulation, and garment construction techniques.
Why is Pattern Making Important?
Why is creating patterns so crucial before learning how to make clothes? Below are listed some reasons for the same.
Perfect fit: Fit is crucial while creating clothing. Not only does a well-fitting dress appear better, but it also feels better. The foundation of fit is pattern making. It guarantees that each garment is made to the wearer's specific measurements. Making a well-fitting garment without a suitable dress pattern design is complex.
Efficient production: Production efficiency is something that students who take patternmaking courses learn to create. Designers can save production costs by using standard pattern blocks and modifying them to produce a variety of variations. Without this talent, designers would have to spend a lot of time making unique patterns for each design. This would slow down manufacturing and raise prices.
Consistency: With a well-crafted pattern, designers can produce a variety of clothes that are uniform in terms of fit and size. This is especially crucial for companies that make a lot of apparel. Designers can guarantee that every item satisfies the exact requirements for fit and quality by continuously employing the same pattern.
Innovation: Once pattern makers have mastered the fundamentals, they can apply their knowledge to produce cutting-edge patterns. Designers can create novel and fascinating clothes. This pushes the limits of fashion by experimenting with designs.
Cost-effective: Custom patterns can be costly and time-consuming. By producing standardized pattern blocks that may be altered to generate numerous designs, pattern design can help cut expenses. This reduces the amount of time and materials used in the production process. Increases efficiency for both manufacturers and designers.
Career Opportunities After Pattern Making Course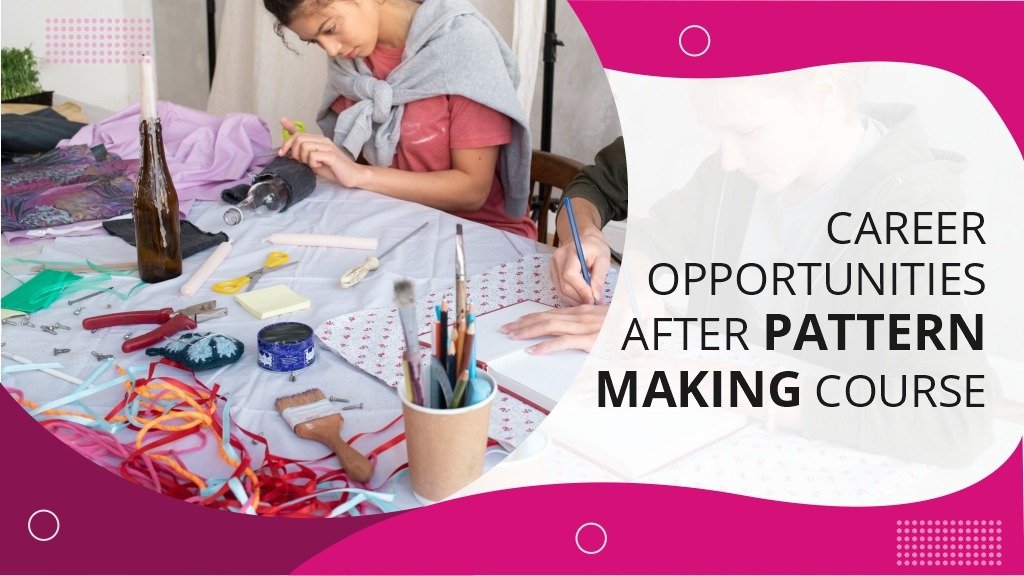 A patternmaking course can open many career opportunities for aspiring fashion designers. With this essential skill, you can work for established fashion houses or start your own business. Patternmaking is a highly sought-after skill in the fashion industry, and those who master it can go far.
•Fashion designer:
The careers of many fashion designers begin as pattern makers. Patternmaking is a crucial ability for fashion designers, and those skilled at it can produce exquisite clothing that stands out in a crowded market.
•Pattern makers:
Pattern makers collaborate closely to generate patterns that translate fashion designers' designs into adequately fitted clothing. They must be able to design ways that fit a range of body shapes and sizes and possess a solid understanding of garment construction. Pattern creators might create their enterprises or work for fashion houses or clothing producers.
•Grader:
Graders are in charge of increasing or decreasing the scale of patterns to produce various sizes. They must have a keen eye for detail, a firm grasp of pattern making, and knowledge of how clothes are put together. Graders can open their own grading companies or work for garment manufacturers.
•Technical artist:
Technical designers create technical packages with thorough instructions for a garment's construction. They should be very knowledgeable about how clothes are made, how patterns are made, and how production works. Technical designers may work for clothes manufacturers or fashion businesses.
•Entrepreneurs:
Entrepreneurs who want to launch their own fashion label or patternmaking company may consider learning how to sew. Entrepreneurs that have the necessary skills and expertise can design distinctive, well-fitting clothes that stand out in a crowd.
The Relationship Between Dress Designing and Pattern Making
In the fashion industry, creating patterns and designing dresses are two crucial abilities that go hand in hand. They are the cornerstone of garment manufacturing and the secret of making lovely, well-fitting clothing.
Dress designing:
Developing a distinctive design for a garment is known as dress designing. It entails making concept sketches, picking fabrics and trims, and finishing the design. The designer must take into account the season while designing a garment. The intended audience and the most recent fashion trends should also be kept in mind.
Pattern making:  
It involves taking measurements and drafting a paper pattern. Making adjustments to ensure a perfect fit. The pattern maker must consider the garment's style, the fabric's drape, and the wearer's body shape and size to create a pattern that will result in a well-fitted garment.
Dress designing and patternmaking are two essential skills that create stunning garments. The designer creates a unique design that the pattern maker translates into a pattern that will fit the wearer perfectly. When creating the pattern, the pattern maker must consider the design's details, such as the shape of the neckline or the length of the sleeves.
The pattern maker and the designer make sure that the fabric and trim selections complement the design. When making the garment, the dressmaker or designer must also consider the design's complexities, such as how the stripes should match or whether to include embellishments.
Conclusion
Together, these two skills form the foundation of garment construction and are essential for success in the fashion industry. If you're interested in fashion design, consider learning dress design and pattern-making to create stunning and well-fitted garments. If you're interested in pattern making, consider pursuing a pattern-making course or apprenticeship to start your path to success in the fashion industry.